Best

eCommerce Development Services

& Solutions
Do you want to give your businesses a competitive edge by opening an eCommerce Development store that provides excellent purchasing experiences? Create one that has a great aesthetic appeal and converts well.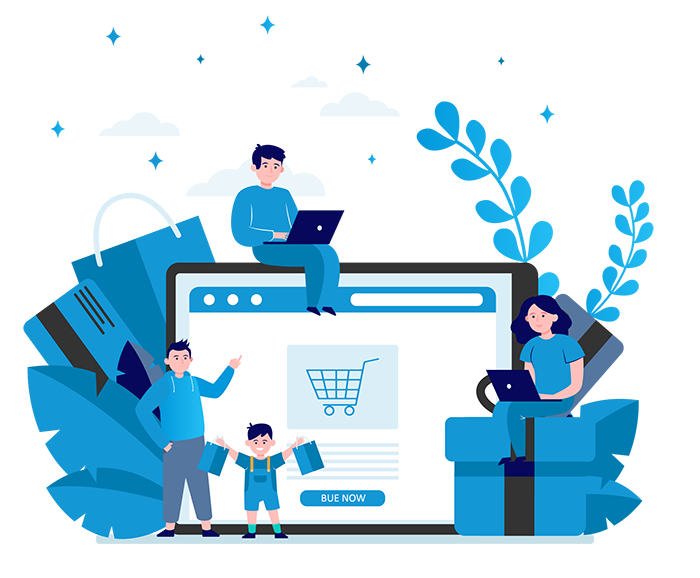 Our

eCommerce Development

Services
We offer a full range of eCommerce website design services for developing, implementing, and launching online stores of all sorts. Please find out more about our services, which provide a personalized, customizable, eCommerce web application development and SEO-friendly configuration.
eCommerce Strategy & Consultation
With the help of industry professionals and tech specialists, choose the optimal course for beginning or developing your internet presence. Moreover, our e-commerce development services include planning and consulting to assist you in finding the finest specific value for your online store.
eCommerce
Audit
We are available to fix any problems and difficulties to maintain your websites' optimal performance and create unrivaled customer experiences. We look for coding flaws, security flaws, scalability difficulties, and user experience concerns on eCommerce websites and infrastructures. Then we evaluate and prepare remedies to the issues that have been identified.
Store
optimization
We can undoubtedly assist you with introducing new components to your eCommerce store, redefining UI/UX, or integrating third-party solutions to improve the shopping experience and open up new options. Our eCommerce development team will first learn about your company's problems before recommending the best choice for enhancing your stores' performance and increasing revenue.
Custom eCommerce Design
Our skilled UI/UX designers combine innovation, imagination, converting, and material to produce artworks that set your online store except from the market. Although, our retail professionals are prepared to provide system integration and comprehensive custom eCommerce development services assistance.
WooCommerce Development
Gorgeous WooCommerce sells products with unique themes, UI/UX designs, and theme design and implementation. Moreover, we install WooCommerce, extension development, translation and Webhosting, and delivery and online payment growth.
Shopify
eCommerce
We also give services to the custom Shopify eCommerce business and external factors, customizable application generation, connectors, and plugins. Our Shopify website development services integrate Shopify with 3rd devices to make operations like inventories, orders, cancellations, portals, and invoicing go more smoothly.
B2B eCommerce website development
When we deal with b2b eCommerce website companies, we engage perfectly rational buyers and create a customer journey that helps them make elevated decisions. Furthermore, we also customize the buyer's encounter, set up negotiation mechanisms involving businesses and customers, and enable diverse exposure to various teamwork in B2B eCommerce solutions.
B2C eCommerce development
The interface of b2c e-commerce is engaging UI and suitable customization. However, we look forward to studying the company strategy to comprehend prospective vehicular traffic variations, buyer worries about your specific item type(s), online marketing methods, and other elements.
We value the distinctiveness of your eCommerce website design and development company needs and their process. Furthermore, with feature-rich e-commerce software, our customized e-commerce developing site and techniques are intended to help you build a recognizable place in the online business market.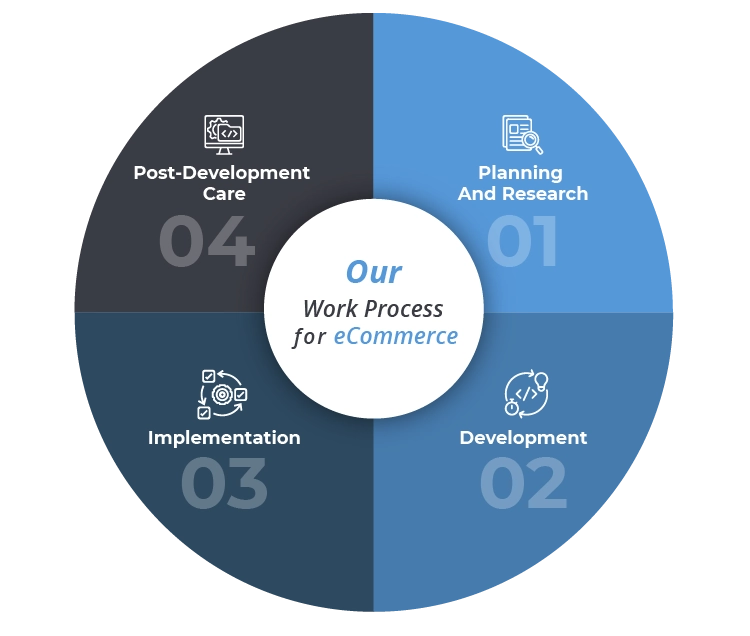 Planning and Research
To design the phases of our e-commerce website development services, we also undertake a complete SWOT assessment and information investigations.
Development
Our services remain online during the post-development phase supplying troubleshooting assistance, optimal control assistance, and general upkeep.
Implementation
The product is thoroughly tested for defects, reliability, and other distinguishing characteristics from becoming distributed to customers.
Post-Development Care
Our technically talented staff can build custom e-commerce stores and Shopify web design for you, whether it's from the ground up, connecting with third party applications, or migrating to other systems.
The clients we serve are special to us, and we are proud of them
Amazing work! Fast, prompt, and very affordable. I will definitely continue hiring him in the future.
Cristian Pavel
United States – Chicago
A great team! Easy to communicate with and knows what they are doing. Can recommend them to anyone.
ctwpctwp
Austria – Reinach, Reinach
Work was completed on time and delivered promptly. They were very responsive to necessary changes. Will work with again.
Royal Svc.
United States – San Dimas, CA
Frequently Asked

Questions
What method will we use to track the progress of its project?
We keep you up to date on the performance of your tasks via phone, email, and Chat. In addition, a dedicated senior manager will be assigned to your work to help you more excellent handle the development's completion.
WILL I BE CAPABLE OF CONNECTING MY E-COMMERCE STORE TO THIRD-PARTY PLUGINS?
We've had a lot of success incorporating third-party plugins into our eCommerce marketing and web solutions. Furthermore, we have the technological know-how and capabilities to integrate all 3rd addons with the eCommerce website seamlessly. Although, our advisors can also assist you in selecting the appropriate extensions to ensure optimal service at all times.
Will I be kept up to date on the project's progress?
 Absolutely! Our custom e-commerce web development services are also created with our customer's needs in mind. Although, it focuses on meeting on a routine basis, making status reports, and receiving your input as needed. So, you also can request to see the homepage as it develops.
How long will it take for the process to be completed?
It isn't easy to give an exact time without more information. E-commerce software development companies, on the other hand, can take somewhere between one to four weeks. Furthermore, if the job is complicated, it may take a few extra weeks to process the final changes. Although to achieve optimal effectiveness in production, we adopt the agile methodologies process.
Are we capable of handling my entire eCommerce operation?
Yes, we certainly can. Indeed, we also offer a Managed Ecommerce service in which we handle your e-commerce platform, including notifications, entering data, customer orders, defeating, client service, and shipments. Moreover, our eCommerce website design company also manages social media management and pay-per-click advertising on Google.
Is process optimization part of your eCommerce web design company package?
For the optimal online purchase, increased efficiency is critical. Efficiency optimization algorithms such as Splash Image, Dynamic Loading, reducing Web applications, Full Page Caching, Network Segments, and others are used in our e-commerce site services to significantly improve your site's page load time. Although, e-commerce designers have a record of conquering obstacles with creative ideas that result in more excellent results.
What is your contract billing framework?
Resource expenditure choices and set time and pricing options are available from our bespoke e-commerce software development firm. Moreover, you can tell us the model you like whenever convenient for you. However, we will do everything possible to meet your needs. As a result, we can assure you that you are delighted with the job.
DO YOUR E-COMMERCE SITES WORK WELL ON MOBILE DEVICES?
Absolutely. Since the outset, every site we've developed has been mobile-friendly. Moreover, we ensure that projects work on a broad spectrum of dimensions, from tablets and smartphones to small and large computer displays, using flexible design principles.