Best
eCommerce Development Services

& Solutions
Do you want to give your businesses a competitive edge by opening an eCommerce Development store that provides excellent purchasing experiences? Create one that has a great aesthetic appeal and converts well.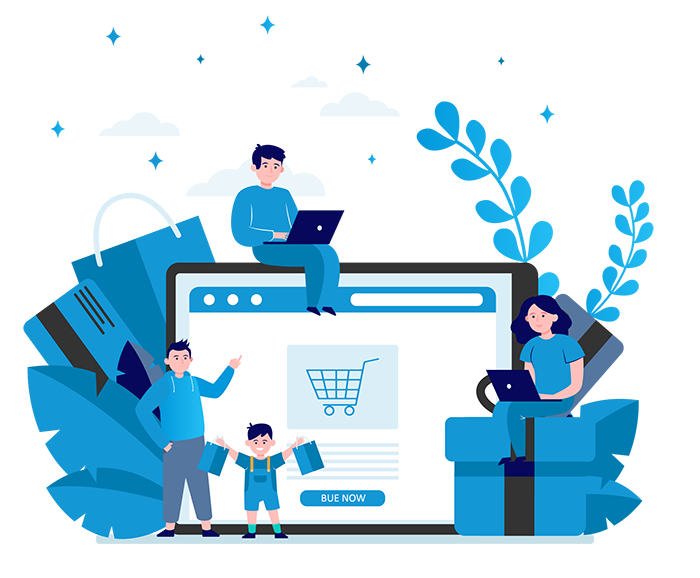 Start selling today with our
eCommerce Development

Services
We offer a full range of eCommerce website design services for developing, implementing, and launching online stores of all sorts. Please find out more about our services, which provide a personalized, customizable, eCommerce web application development and SEO-friendly configuration.
eCommerce Strategy & Consultation
With the help of industry professionals and tech specialists, choose the optimal course for beginning or developing your

eCommerce
Audit
We are available to fix any problems and difficulties to maintain your websites' optimal performance and create unrivaled

Store
optimization
We can undoubtedly assist you with introducing new components to your eCommerce store, redefining UI/UX, or integrating third-party
Custom eCommerce Design
Our skilled UI/UX designers combine innovation, imagination, converting, and material to produce artworks that set your online store except

WooCommerce Development
Gorgeous WooCommerce sells products with unique themes, UI/UX designs, and theme design and implementation. Moreover, we
Shopify
eCommerce
We also give services to the custom Shopify eCommerce business and external factors, customizable application generation, connectors,

B2B eCommerce website development
When we deal with b2b eCommerce website companies, we engage perfectly rational buyers and create a customer journey that

B2C eCommerce development
The interface of b2c e-commerce is engaging UI and suitable customization. However, we look forward to studying the
We value the distinctiveness of your eCommerce website design and development company needs and their process. Furthermore, with feature-rich e-commerce software, our customized e-commerce developing site and techniques are intended to help you build a recognizable place in the online business market.
The clients we serve are special to us, and we are proud of them
Amazing work! Fast, prompt, and very affordable. I will definitely continue hiring him in the future.
Cristian Pavel
United States – Chicago
A great team! Easy to communicate with and knows what they are doing. Can recommend them to anyone.
ctwpctwp
Austria – Reinach, Reinach
Work was completed on time and delivered promptly. They were very responsive to necessary changes. Will work with again.
Royal Svc.
United States – San Dimas, CA
Frequently Asked
Questions
Are we capable of handling my entire eCommerce operation?
Yes, we certainly can. Indeed, we also offer a Managed Ecommerce service in which we handle your e-commerce platform, including notifications, entering data, customer orders, defeating, client service, and shipments. Moreover, our eCommerce website design company also manages social media management and pay-per-click advertising on Google.
Is process optimization part of your eCommerce web design company package?
For the optimal online purchase, increased efficiency is critical. Efficiency optimization algorithms such as Splash Image, Dynamic Loading, reducing Web applications, Full Page Caching, Network Segments, and others are used in our e-commerce site services to significantly improve your site's page load time. Although, e-commerce designers have a record of conquering obstacles with creative ideas that result in more excellent results.
What is your contract billing framework?
Resource expenditure choices and set time and pricing options are available from our bespoke e-commerce software development firm. Moreover, you can tell us the model you like whenever convenient for you. However, we will do everything possible to meet your needs. As a result, we can assure you that you are delighted with the job.
DO YOUR E-COMMERCE SITES WORK WELL ON MOBILE DEVICES?
Absolutely. Since the outset, every site we've developed has been mobile-friendly. Moreover, we ensure that projects work on a broad spectrum of dimensions, from tablets and smartphones to small and large computer displays, using flexible design principles.